IoT Security products don't have to be expensive  to buy and complex to deploy, maintain and operationalize.
Securolytics is uniquely designed to:


Centralize & Reduce Deployment and Maintenance
Automate IoT Discovery, Identification & Security
Control & Remediate IoT Devices with Existing Tools and Processes
Provide the lowest TCO
Easy as 1-2-3…No Network TAPs
Connect the IoT Security Appliance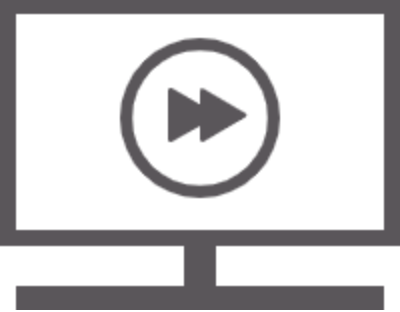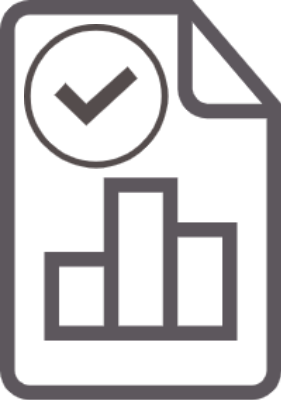 IoT Security Products that Deploy in Minutes or Hours, Not Weeks
The IoT Security Appliance self-configures and can be  connected anywhere on the network without network TAPS. So, it collects needed data and interfaces with integrated systems.
The IoT Security Appliance also acts as syslog collector, so log collection is easy.  This means you simply syslog the data to the IoT Security Appliance's IP address and the rest is automated.
For data sources that do not support syslog, the Securolytics ExpressForwarder is a lightweight agent that can automate logging and transport to the IoT Security Appliance.
Securolytics' Unique "No Network TAP Deployment" reduces time, costs and data privacy risks
There are no expensive Network TAPs or endpoint agents to deploy or maintain.  Simply connect the IoT Security Appliance anywhere on the network.
Other IoT security products use Network TAP/SPAN ports.  Securolytics DOES NOT, so there is nothing inline nor is the switch taxed with the extra load to duplicate packets.  As a result, you'll have no performance impact to the network with Securolytics.
A centralized deployment means a single appliance typically covers all locations and networks to reduce deployment time and on-going planning and maintenance.
NO sensitive network traffic and data is collected, so you can keep your private data…Private !
Device Detail: What We Tell You
Device Category 
Device Type
Manufacturer
Managed or Unmanaged
Active/Inactive
MAC
IP
OS
Ports
Network
User
Discovered Date
Last Active Date
Device Communications
Communication Categories
Bandwidth Usage
Device Status & Availability
IoT Security Products To Find, Identify & Track IoT Devices
IoT Finder automatically discovers connected devices  that are connected to the network. Then, it informs the IoT FingerPrint Engine so they can be profiled and identified and tracked.
IoT FingerPrint is an advanced machine learning and AI engine that establishes detailed profiles on devices. Then, it stores and references them in the IoT Library to provide in-depth device identification and context.
The Securolytics IoT Library contains millions of crowd-sourced device profiles, including detail about what devices are, their behavior, what is running on them and their history.  Moreover, it helps to rapidly identify devices when they connect to the network. 
See & Identify All Managed, Unmanaged & IoT Devices
Securolytics tells you when a device connects and exactly what it is.  So, you get new visibility into devices while automating what was typically a manual process.
Because you'll see every device, finding shadow IT is easy. And, you don't need to worry about accurately identify devices because Securolytics even profiles devices that encrypt traffic or that have 3rd party NICs.
Now, you can alleviate problems with finding vulnerable devices that have moved since they was last scanned.  Because Securolytics automatically tracks devices, you can find them wherever and whenever they move.
Get Context to Make Informed Decisions
You can take the guesswork out of network segmentation and remediation prioritization efforts  because Securolytics provides detailed devices identification about , including make and model number.  
Since Securolytics tells you where your sensitive medical and IoT devices are, you can tkae action to exclude them from intrusive NAC or Vulnerability scans.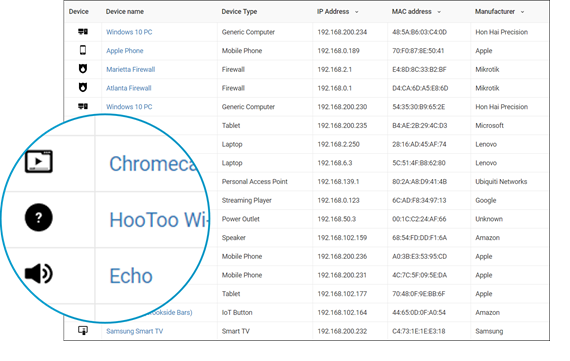 Monitor IoT Performance & Resources
Your mission-critical devices can't support the business if they aren't available and operating correctly.  With Securolytics you'll always have visibility into offline or problem devices.
Safe, IoT Active Inspection + Passive Monitoring:
IoT Threat Inspection:
Default Credentials
Hard-Coded Credentials
Open/Unwanted Services
Manufacturer Back Doors
Unpatched or Outdated OS:
EternalBlue / Ransomware
Remote Code Execution
BlueKeep, VXWorks, etc.
RDP & SSL Vulnerabilites
Unsecured Document Access
Passive Monitoring:
Suspicious Communications
Malicious Communications
Abnormal Communications
CVEs Mapped to Devices
Restricted Devices
Network Hopping
Restricted OS
IoT Security Products To Detect Vulnerable or Misbehaving IoT Devices

Traditional vulnerability scanners can overwhelm or crash devices with brute force testing, even more so a problem with resource-constrained IoT.  In contrast, Securolytics IoT PortSafeTM  first understands what the device is and how to safely test it, before any testing occurs.  With this knowledge, it then can gently test the device to detect IoT vulnerabilities precisely, intelligently and non-intrusively.
Securolytics IoT FingerPrint profiles device behavior and communications.  Then, IoT Monitor compares that to normal behavior for that specific device. Next, it observes if it is going to suspicious or malicious destinations via Securolytics IP Reputation and URL Filtering Database. As a result,  Securolytics will immediately notify you when a device exhibits anomalous or suspect behavior, so you can take action.
Find IoT Threats that Vulnerability Scanners Often Miss
IoT-specific threats listed in the  OWASP IoT Top 10,  like default credentials, or other threats like manufacturers back doors, VXWorks, BlueKeep can elude traditional vulnerability scanners.  But since Securolytics was purpose built to detect IoT vulnerabilities,  you can close IoT security gaps to supplement your current vulnerability management and reduce IoT risks.




Traditional vulnerability scanners are commonly run on a scheduled basis, and not continuously.  The result can mean that vulnerable IoT devices are on the network until the next scheduled scan.  To bridge this gap, Securolytics provides IoT vulnerability detection that runs as devices connect to the network , automatically and with no configuration required.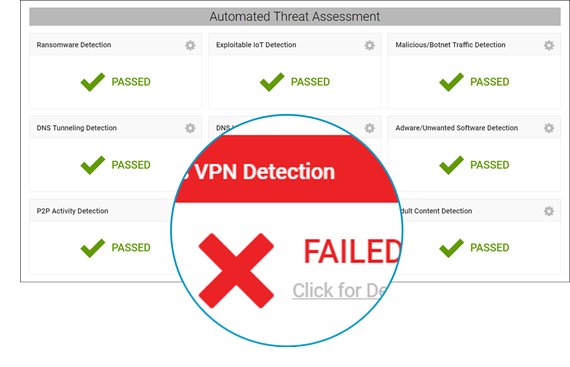 PortSafeTM Inspection - Finally, Safe, Active Inspection Without Device Interference
The problem with medical and IoT devices is they are commonly designed with only enough resources to carry out their intended purpose.  As such, intrusive NAC and vulnerability scans can interfere with these devices.  Additionally, medical device manufacturers typically do not allow NAC or vulnerability scans of their medical devices. The result can be:

Untested devices that are on the network.
Or, in the case when devices are scanned anyway, there is an increased potential to disrupt devices that are critical to operations while increasing the number of trouble tickets.

But with Securolytics PortSafeTM Inspection, you can confidently and safely inspect medical & IoT devices for vulnerabilities in a way that does not interfere with resource-constrained IoT.  Above all, this brings new opportunities to detect vulnerabilities to devices that were previously too risky to scan.
Automated, Continuous, Device-Level Monitoring
Device-level monitoring is no longer a tedious and manual process involving understanding device behavior and implementing security rules. This is because Securolytics automates the process.  The result is automated and high-fidelity alerts to protect the environment when a devices misbehaves.
Integrate results with:
Network Access Control
SIEM
Asset Management
Vulnerability Management
IT Service Management
Incident Detection &                    Response
Configuration Management      Database
Securolytics Capabilities:
SoC
IoT Network Access Control
IoT Security Products to Operationalize Device & Threat Detail
Securolytics REST API provides flexible information sharing with other solutions, so you can leverage your existing tools and processes.
Securolytics IoT Remediate automatically creates and manages security policy for at risk devices. In addition, you have the option either integrating results other solutions or natively through Securolytics IoT Network Access Control.
Leverage existing tools to take control of IoT
The Securolytics platform can integrate device and threat detail with other solutions that your team is already using. So, you can make more informed decisions, while in the case of NAC, have a means to block, segment and control devices.
Remediate Unpatch-able IoT devices with SmartBlock
Once Securolytics identifies a security threat, SmartBlock can automatically create and share a compensating control to remediate the vulnerability while leaving the device operational. Additionally, Securolytics uniquely does this for passive, behavior-based threats and threats discovered through our active inspection.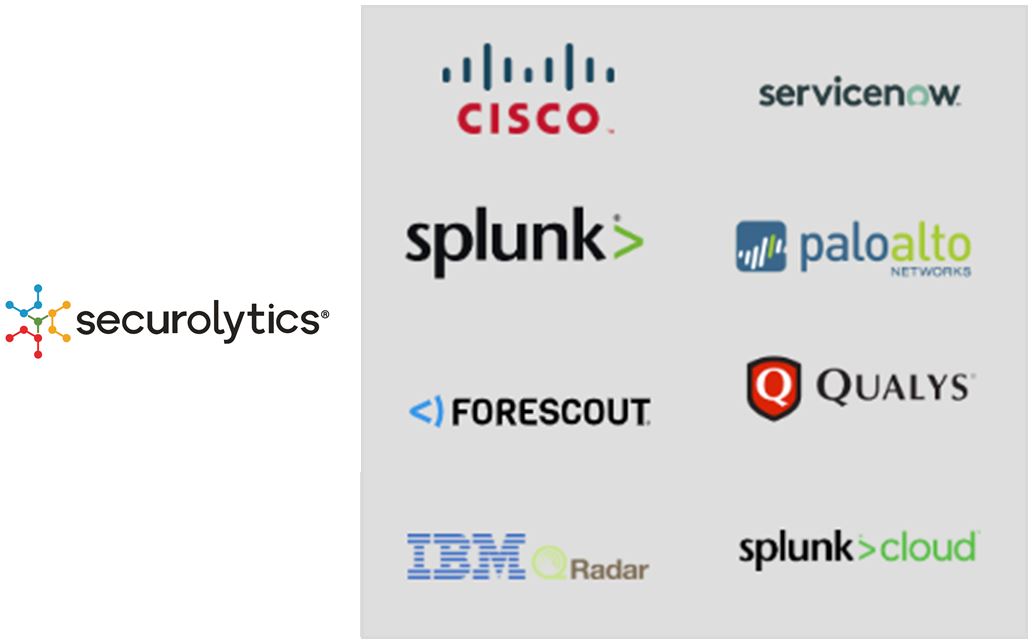 Network Access Controls (NACs) can be expensive and complex to purchase and deploy. Yet the need to control unmanaged IT, IoT and medical devices still exists.  So, Securolytics can provide native capabilities for IoT Network Access Control that is both inexpensive and easy to deploy.  And, it lets you block devices and remediate at risk devices while leaving them operational. 
How does Securolytics Compare to Other Leading IoT Security Products?